Virtual Signing Ceremony of the Memorandum of Understanding between National Centre for Human Rights and Center for Asian Legal Exchange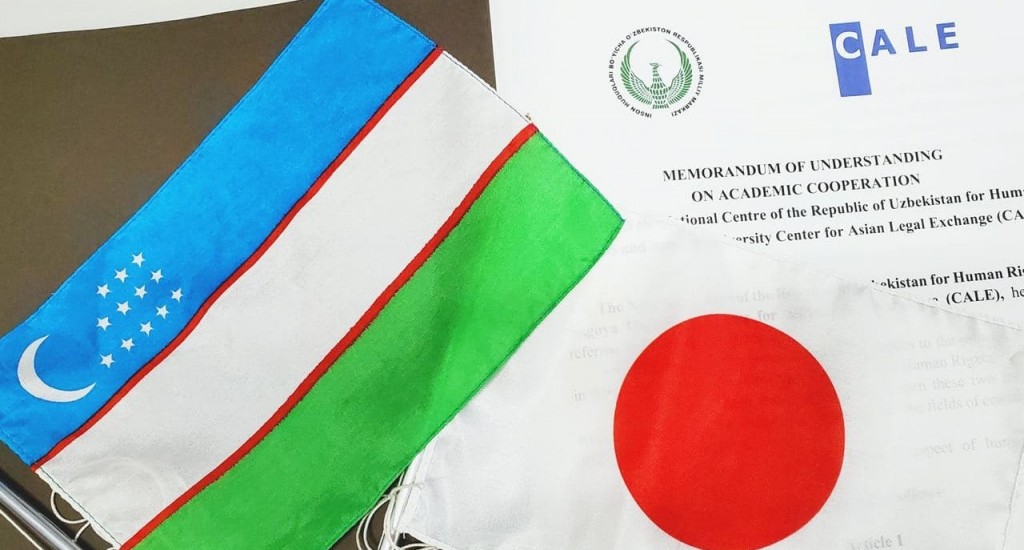 Virtual Signing Ceremony of the Memorandum of Understanding between National Centre for Human Rights and Center for Asian Legal Exchange
Tashkent, 8 July 2021 – The National Centre of the Republic of Uzbekistan for Human Rights (NCHR) and Center for Asian Legal Exchange (CALE), Nagoya University signed a Memorandum of Understanding (MoU) to promote partnership and academic cooperation between two Centers.
The Memorandum's official signing ceremony was held virtually with the presence of Akmal SAIDOV – First Deputy Speaker of the Legislative Chamber of the Oliy Majlis of the Republic of Uzbekistan, Director of the National Centre for Human Rights, Gayrat FAZILOV – Deputy Minister of Foreign Affairs of the Republic of Uzbekistan, Akira FUJIMOTO – Director of Center for Asian Legal Exchange, Yoshinori FUJIYAMA – Ambassador Extraordinary and Plenipotentiary of Japan to Uzbekistan and other representatives from ministries and state agencies, higher education institutions, National Center for Human Rights and international organizations in Uzbekistan.
The ceremony was moderated by Aziz ISMATOV, Assistant Professor at CALE, Nagoya University.
The MoU between NCHR and CALE represents the strategic partnership of both parties, harmonious cooperation, discussions and promotion of development of their cooperation in the fields of constitutional law, international law and human rights for the mutual benefit of parties.
More specifically, the document is intended to spur exchange of information, legislative acts, analytical materials and literature, implementation of joint programs, seminars, workshops, promoting publications in constitutional law, international law and human rights of mutual interest, as well as enhance the mobility of staff between the Centers.
Speaking at the signing ceremony, Prof. Akmal Saidov noted that the "National Centre for Human Rights has been collaborating closely with CALE on various projects and events. This partnership has become most prolific in the latest years. Even during the most challenging periods of the COVID-19, NHRC and CALE continued close interaction on discussions of most important issues in human rights in international arena".
After their speeches, Academician Prof. Akmal Saidov and Prof. Akira Fujimoto signed the MoU on academic cooperation. This MoU is signed for a period of three years.
Following the signing ceremony, Inaugural lecture was delivered by Mr. Akmal Saidov who referred to recognition of Uzbekistan's human rights policy by the international community, membership of Uzbekistan to UN Human Rights Council, as well as Uzbekistan's recent progress and new initiatives on human rights.
Question and answer session followed the lecture, where participants raised queries which allowed for a constructive and in-depth discussion to be held.
National Centre of the Republic of Uzbekistan
for Human Rights